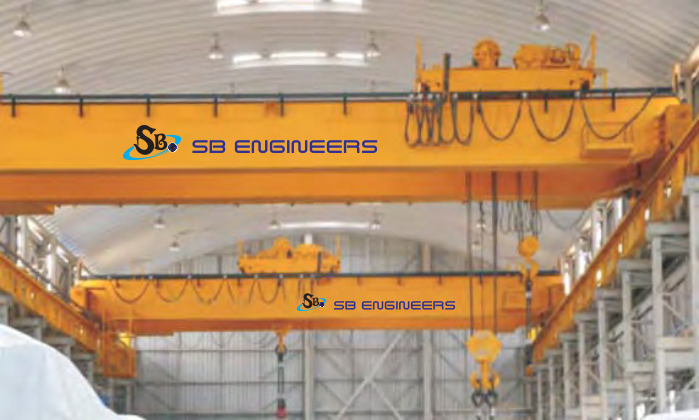 Double Girder Overhead Crane
The double girder cranes are generally used when heavy loads and wide spans are required. Double girder cranes consist of two torsion-free box girders and load lifted by crab which is running on top of two girders.
Manufacturing Range

Salient features
Capacity : Up to 100 Ton
Span: Up to 35 Mtr.
Lift : Up to on customer's request
Amply proportioned Main Girders of Box section Fabricated from IS: 2062 plates that ensure Maximum rigidity with a minimum dead weight.
Modular design, covering a very wide operating range. The systems are designed for ease of installation and maintenance and reliable operation with fuse less circuitry, ducted wiring and non-screwed terminals. Each drive group is equipped with a motor overload protection.
All motions are protected with limit switches to prevent over hoisting & over travelling motion.
Precision flat helical / spur gear units in light alloy housings with case-hardened gears, high- grade surface treatment and permanent oil / grease lubrication.
Higher efficiency to save power.
Platform with hand railing for easy, simple & safe maintenance of the crane extended partially or totally along the girder width.
Double Girder Overhead Crane